Lauren Kaufmann
PhD in Ethics and Legal Studies, the Wharton School, University of Pennsylvania '21 (expected)
MSc in Gender, London School of Economics '15
BA in Philosophy, English, University of Pennsylvania '14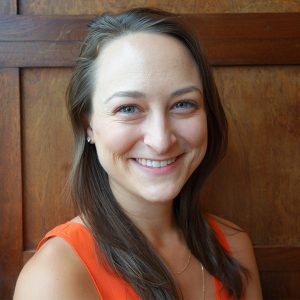 "The Graduate Certificate in Social Cognitive and Affective Neuroscience (SCAN) courses were some of the best classroom experiences I've ever had," shares Lauren Kaufmann, a current PhD candidate in ethics and legal studies at Wharton. Lauren became interested in neuroscience when she took a corporate responsibility course during her undergraduate studies as a philosophy major. During that time, she struck up a rapport with Dr. Diana C. Robertson, an expert in neuroscience and ethics.
She explains, "I was always interested in questions of morality and ethics, which philosophy usually endeavors to answer. As I moved along life's path, I learned that people considered these issues in very different contexts, which I found compelling. I discovered in business academia that neuroscience is used as a tool and research method in addressing these big questions."
Having completed the foundational SCAN courses in her first semester, Lauren is now carrying out independent studies. Her work includes research into social norms and neuroscience as well as moral outrage toward corporate crime. In the future, she wants to explore the ethics of socially responsible investing.
She credits her successful leap into neuroscience to SCAN's Director Martha Farah and Associate Director, Hilary Gerstein, "The program is very inclusive, critical of its methods, and interested in hearing feedback from individuals who come from a broad swath of the University. All of that made the SCAN experience intellectually rich, rigorous and comfortable."
With her sights set on becoming an academic, Lauren finds, "For me, as a researcher, the huge gain from the SCAN program was that it made me a knowledgeable collaborator."